Repetier-Host Features
Easy and intuitive to handle
ALL-IN-ONE software solution – 3d printing was never easier
Great support for multi extruder printing
Supports several slicers for best printing results
Preview resulting print with selectable layer ranges
Live preview of printer action and temperature curves
Send push messages on status changes to the Repetier-Informer app
User Community
If you have any problems or questions about any Repetier program, our user community will give help and advice in our forums:
Documentations
Our online documentations and troubleshooting pages should answer most questions quickly.
These are available for:
Personal Support
If you need personal support for a special problem or if you want to mail bug reports or feature requests, you can contact our technical support.
Companies that need additional features or own plugins are welcome to apply.
Custom Repetier-Host for Manufacturers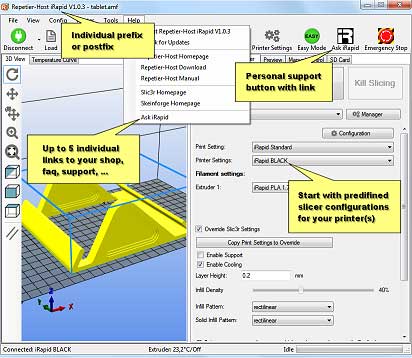 Many manufacturers ship their 3d printers already with a custom version of Repetier-Host and use a number of advantages:
Get a digitally signed Repetier-Host with your own branding.
Get listet as distributor of your Host in "About Us".
Your drivers and all printer, slicer and filament settings are already included, your customers get a PLUG & PRINT EXPERIENCE.
Less support questions and satisfied customers with your predefined presets.
No personnel and hardware costs for expensive software development.
With constant updates the software remains always up to date.
You get banner ads on our homepage to show you are an official supporter and get high quality visitors for your website.