What is Repetier-Host
If you have a 3d printer, you need to feed it with data. The typical workflow is as follows: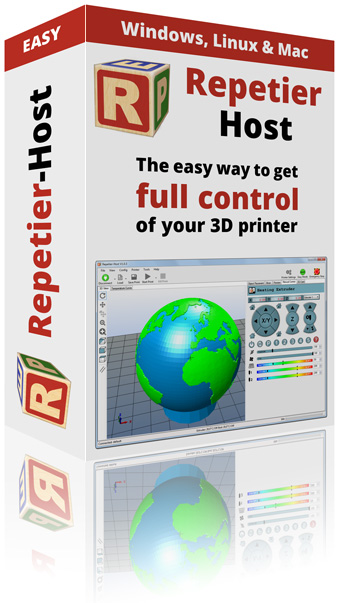 Create a 3d model or get it from the internet.
Arrange one or more models on a virtual print plate.
Slice the  the models into thin slices and compute a path for printer head. This is done by a slicing software, which converts the model into g-code, the language your printer speaks.
Check the created g-code for errors and printability.
Send the g-code to your printer or copy the code to a sd card, which you can insert into your printer.
Monitor your printer.
Repetier-Host is the ALL-IN-ONE SOFTWARE SOLUTION for your printer. Except for point 1 the host offers everything you need. As you will see, the host interface offers different tabs to guide you easily through the workflow – 3d printing has never been easier!
Hundreds of thousands of user as well as many manufacturers and well-known companies use a Repetier-Host, to get the best printing results.
Table of content
Installation and configuration
Special Documentations
Repetier-Host 0.95F Manual (Chinese)
Programming
Here we show how to program your own plugins for Repetier-Host: http://rhplugins.repetier.com