Download

Repetier-Host
Windows version
The windows installer comes already with everything you need. It includes Slic3r, Skeinforge, Python and Pypy. Requires .NET 4 framework.
This is the release candidate of the upcoming version 1.00. It now features CuraEngine and has many changes to better work with multi-extruder setups and much more. If you find any bugs, let us know and we will try to fix them for the final release. After installing the new version, old versions might no longer run, unless you delete the registry entries under HKEY_CURRENT_USER/Software/repetier. You can make a backup of that key before installing the update, so you can go back any time.
Linux version
The Linux version requires a recent installation of the Mono framework. After unpacking the tar file you need to run configureFirst.
Additional translation / Learn how to translate
Repetier-Host Mac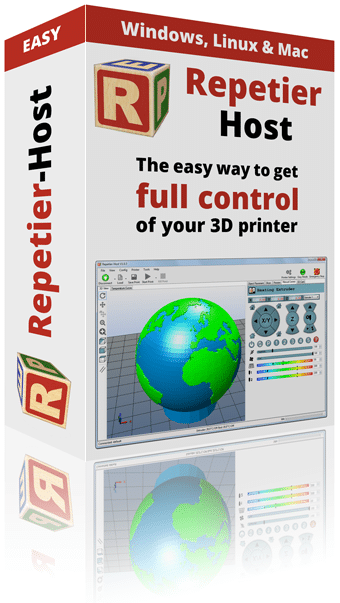 The latest stable release of the Repetier-Host for Macintosh. Download and run the package to install. If you are using the new Mountain Lion, you need to allow installation of unsigned code!
Repetier-Firmware
Licence: GNU GPL V3
Source repository: Github
Version 0.91 with Configuration Tool
Older versions contain unfixed bugs and should be avoided when possible.